The Short Answer is no...
The TENS shouldn't be a painful sensation. When you first turn the TENS machine on it feels a little like gentle pins and needles (without the numbness) and sort of feels like a vibration or rumbling on your back. As you power it up that sensation does change, though it is all within your control and at most can feel a little like a rubber band flicking on your back, though these sensations are generally only felt when you first increase the level, your body does get used to the sensation very quickly and if you don't like a particular sensation you can simply power down.
✘     The TENS Machine Gives You More Pain to Focus on
A common misconception is that the TENS gives you more pain to focus on, so you feel less of the contraction pain. This isn't true. The TENS stimulates your nerves, which floods your brain with nerve signals. As our body prioritises nerve activity over pain signals and can only process so much information at a time, our brain will process the nerve activity and doesn't have as much capacity to process the pain signals, meaning you feel less pain.
✘     The TENS Can Simulate Labour
Sorry, TikTok, but we would like to call BS on this one. Even at its highest level, the TENS machine doesn't feel like labour; it's an entirely different sensation. I'm not familiar with any actual study on it, but I don't believe it comes close to the same pain score. When you use a TENS machine, you slowly increase the level based on what feels comfortable for you, so when people use it to try and simulate labour they put it on and turn it straight up to max power. Doing this won't feel pleasant, but it unfortunately won't show your partner how labour feels either. 
✘    I Don't Like Being Touched, I Won't Like the TENS Machine
I get super touched out when I feel overwhelmed or in pain, so I remember being worried that I wouldn't like the TENS machine, and I was pleasantly surprised when that wasn't the case. This is something we hear time and time again from those who are hesitant and wind up loving the TENS. As someone who expected to feel like I just wanted it off me, I found the TENS machine super soothing and loved it's light touch. It's not the same for everyone, so it's important for us to mention that some people may still not like the TENS, though we do have some suggestions coming up for anyone feeling that way. 
Remember, You Control What You Feel!
Tips for Your TENS Machine & Loving How it Feels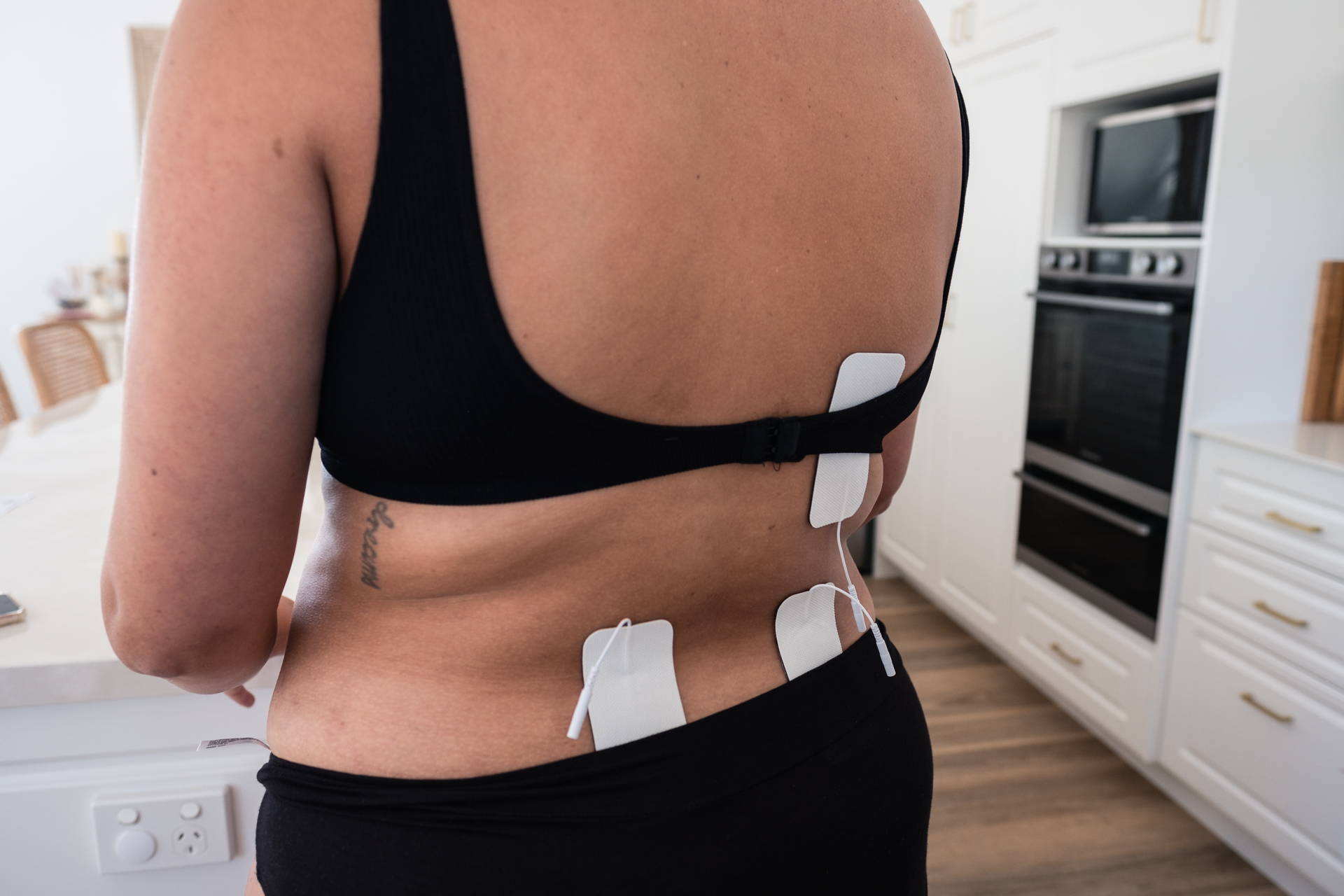 If you've ever fallen into the trap of '𝘵𝘩𝘪𝘴 𝘥𝘢𝘮𝘯 𝘛𝘌𝘕𝘚 𝘮𝘢𝘤𝘩𝘪𝘯𝘦 𝘪𝘴 𝘯𝘰𝘵 𝘸𝘰𝘳𝘬𝘪𝘯𝘨, 𝘨𝘦𝘵 𝘪𝘵 𝘰ff' and then you immediately realised you've screwed up and put it back on with the level you had it on before, your body won't have a chance to get used to it and it won't be the most comfortable sensation. Whenever using the TENS machine, even if you've already been using it but have taken it off at one point in your labour it's important to start from the lower levels again, though you'll end up powering up a lot quicker and that is okay, because 𝘆𝗼𝘂 𝗮𝗿𝗲 𝗶𝗻 𝗰𝗼𝗻𝘁𝗿𝗼𝗹 of it and how it feels. 
𝘉𝘛𝘞, 𝘵𝘩𝘪𝘴 𝘵𝘳𝘢𝘱 𝘯𝘰𝘳𝘮𝘢𝘭𝘭𝘺 𝘩𝘢𝘱𝘱𝘦𝘯𝘴 𝘸𝘩𝘦𝘯 𝘺𝘰𝘶 𝘢𝘳𝘦 𝘪𝘯 𝘵𝘳𝘢𝘯𝘴𝘪𝘵𝘪𝘰𝘯 - 𝘴𝘰 𝘸𝘦 𝘳𝘦𝘤𝘰𝘮𝘮𝘦𝘯𝘥 𝘺𝘰𝘶 𝘱𝘶𝘴𝘩 𝘵𝘩𝘳𝘰𝘶𝘨𝘩 𝘪𝘵 𝘣𝘦𝘤𝘢𝘶𝘴𝘦 𝘪𝘵 𝘸𝘪𝘭𝘭 𝘴𝘵𝘪𝘭𝘭 𝘣𝘦 𝘰𝘧𝘧𝘦𝘳𝘪𝘯𝘨 𝘺𝘰𝘶 𝘴𝘰𝘮𝘦 𝘳𝘦𝘭𝘪𝘦𝘧 𝘦𝘷𝘦𝘯 𝘪𝘧 𝘪𝘵'𝘴 𝘢𝘭𝘭 𝘨𝘰𝘵𝘵𝘦𝘯 𝘮𝘶𝘤𝘩 𝘮𝘰𝘳𝘦 𝘱𝘢𝘪𝘯𝘧𝘶𝘭.
The earlier you start using your TENS machine, the more effective it will be. Though even more than that, most people who don't like the TENS machine have started using the machine when they were already very well into active labour. If you don't have the TENS on hand until well into your labour it is best to still use it when you can, if you don't feel like it's doing any harm though you can try to keep it on and see if that changes as you get used to the sensation.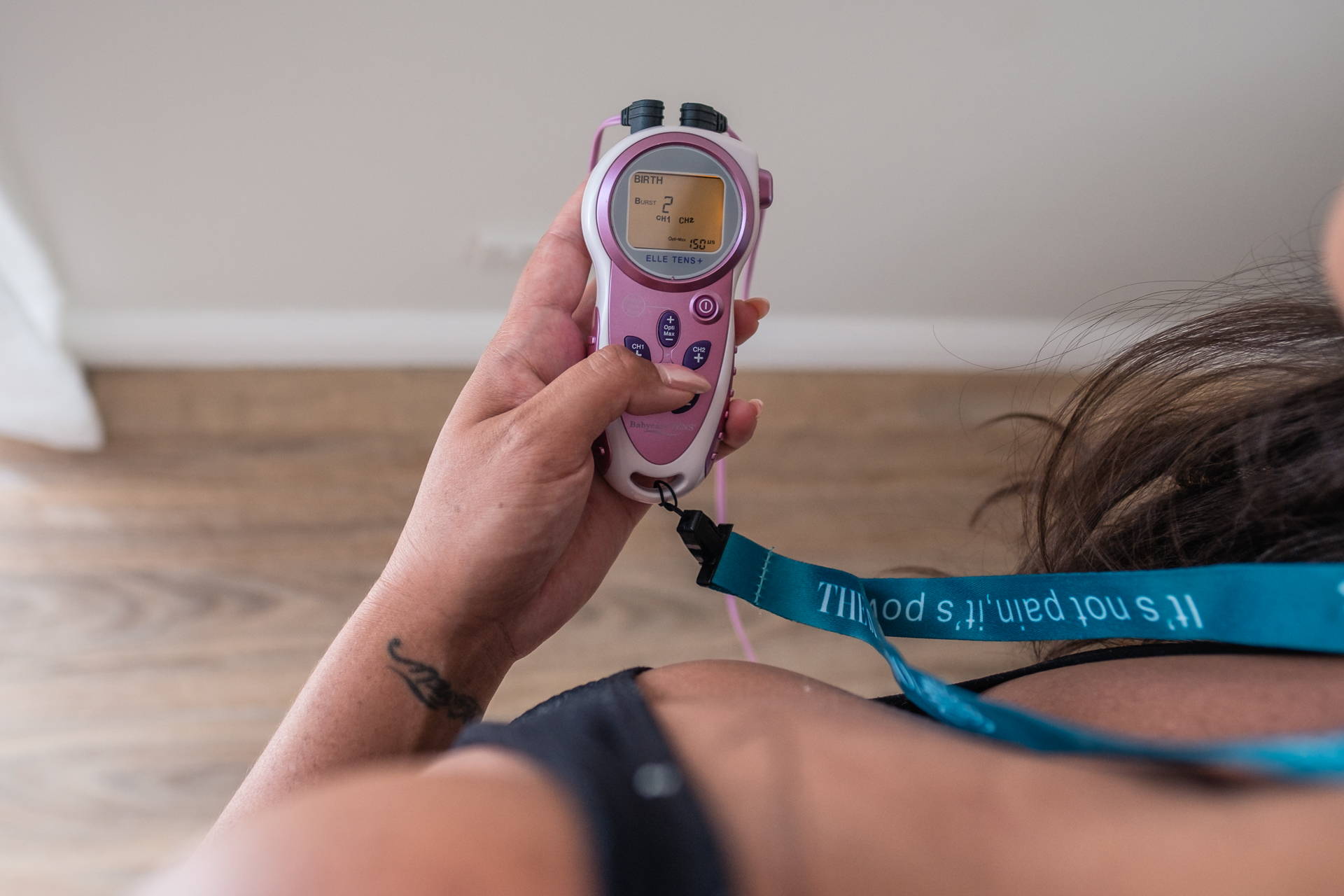 Power Up As Often As You Can
There are so many power levels on your TENS machine, and you'll very likely not reach anywhere close to max power. So we recommend powering up whenever you feel comfortable doing so. With 'comfortable' being the operative word, as you're in control of what you feel, we recommend only powering up if you feel comfortable with the next level. If you don't, or you ever start not to like it, you can easily power down. The lower levels are so gentle we're confident that if you're using all ranges of power - low and high, you'll find a power level you're comfortable with.